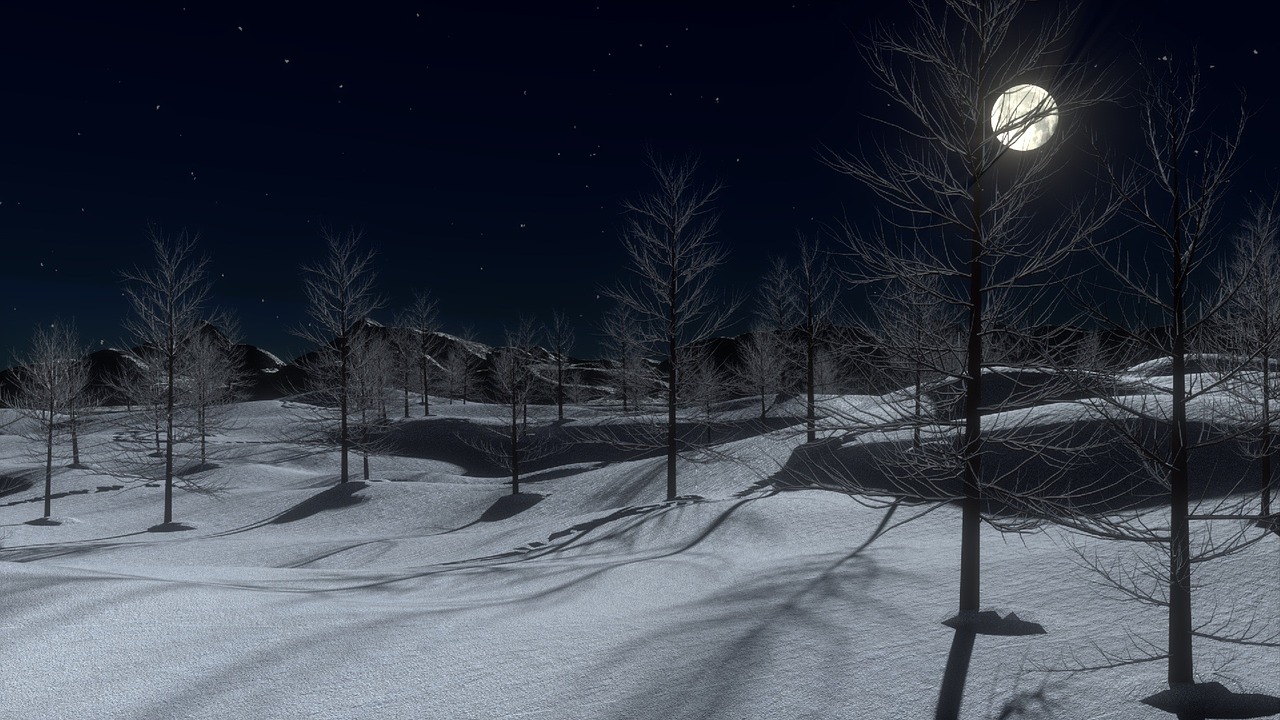 Indigenous Adult Education Network News
Welcome Message
The days are getting longer. Each week we have a few more minutes of daylight, the growing light can help us to stay in a place of hope and good intention.
I want to repeat a message we sent out in October. Our network is blessed with supportive, caring, and rigorous teachers who continue to place our learners at the centre of their learning paths, whether it be in person, online, or a combination of both! Please pass on this message of thank you and recognition to them.
Nia:wen, Welàlin, Tshinaskumitin, Migwetc, Merci, Thank you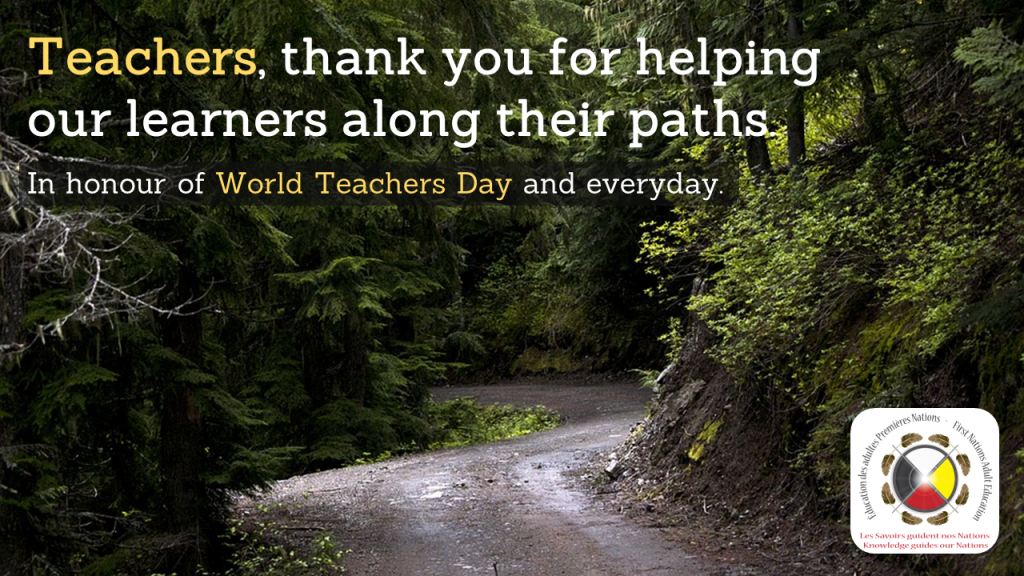 Consultations
Quebec Program Consultations
At the end of October 2021, Minister Roberge announced that the current Ethics and Religious Culture program would be replaced by one called Culture and Citizenship in Quebec. At the time, he stated that the new program was developed in collaboration with Indigenous communities, though this has since been shown to be false.
This new program is problematic in that it focuses on a single notion of culture and citizenship, which the MEQ labels "Quebecois".
A month later, on November 30, 2021, the MEQ announced that it would begin a process of including Indigenous perspectives in all of Quebec school curriculum, with consultation with Indigenous partners.
The Provincial Round Table on the Educational Success of Indigenous Students is central to these efforts and it is starting with the new Culture and Citizenship program. It set up a working group to ensure that perspectives of the First Nations and Inuit are integrated into this program.
Diane Labelle will represent the First Nations Adult Education School Council in this working group and will be able to bring our concerns forward as well as to keep us updated on developments via our monthly network meetings.
New working groups for other programs of study will be created shortly. We will keep you advised as soon as we hear more.
U of M course consultation
During our last network meeting, Christelle Boudreault of the TRÉAQ shared a request for consultation from Marie-Christine De Courcy, an instructor at the Université de Montreal. They are seeking people to speak to the topic of valuing and promoting the knowledge and history of First Peoples, Inuit and Métis while leading a school in an urban setting.
They are looking for people who can participate via Zoom before the end of March, ideally in French. Please see the instructor's request below for details. If interested, please contact Christelle Boudreault or Marie-Christine de Courcy for more information.
Context
Grad course at U of M « Leading a school in an urban setting (equity, inclusion, and social justice)
Nature of the request
Conference/testimony related to this specific issue: taking into account certain minority groups:
Leading to value and promote the knowledge and history of First Peoples, Inuit and Métis
Audience
Graduate students at U of M, at the end of program (teachers, principals, vice-principals and professionals.) Possibility of pairing two groups of about thirty students or one group, depending on the guest's wishes
Time
Between 1 and 2 hours including discussion or questions from students
Dates
A Tuesday between 5:30 and 8:30 pm by March 22 at the latest, on ZOOM, the course is given at a distance
RÉCIT, Équipe-Choc, TRÉAQ
Récit + Équipe-Choc – upcoming events
February 18, 2022 – Do Less, Create More!
Join the Récit at an après cours dedicated to sharing digital tips in English or in French… or attend both! Find more information in the calendar on the Après Cours website.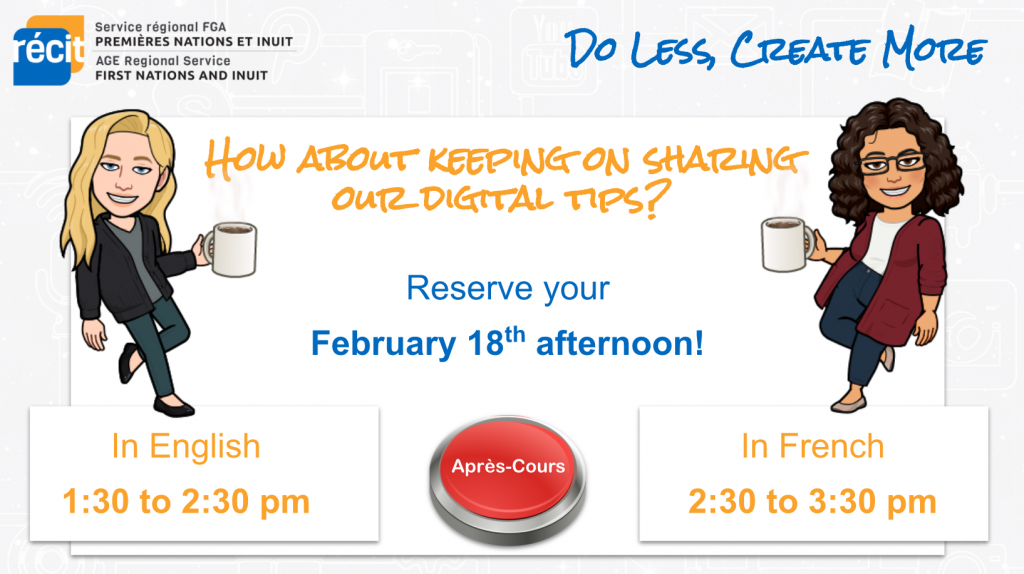 Pedagogical Équipe Choc – Events and resources
Please consult this document for information from the Pedagogical Équipe Choc. You can read about upcoming Provincial Math workshops and consult material from previous training sessions on Financial Education and History of Quebec and Canada as well as a new Teaching Resource/Material Analysis Grid.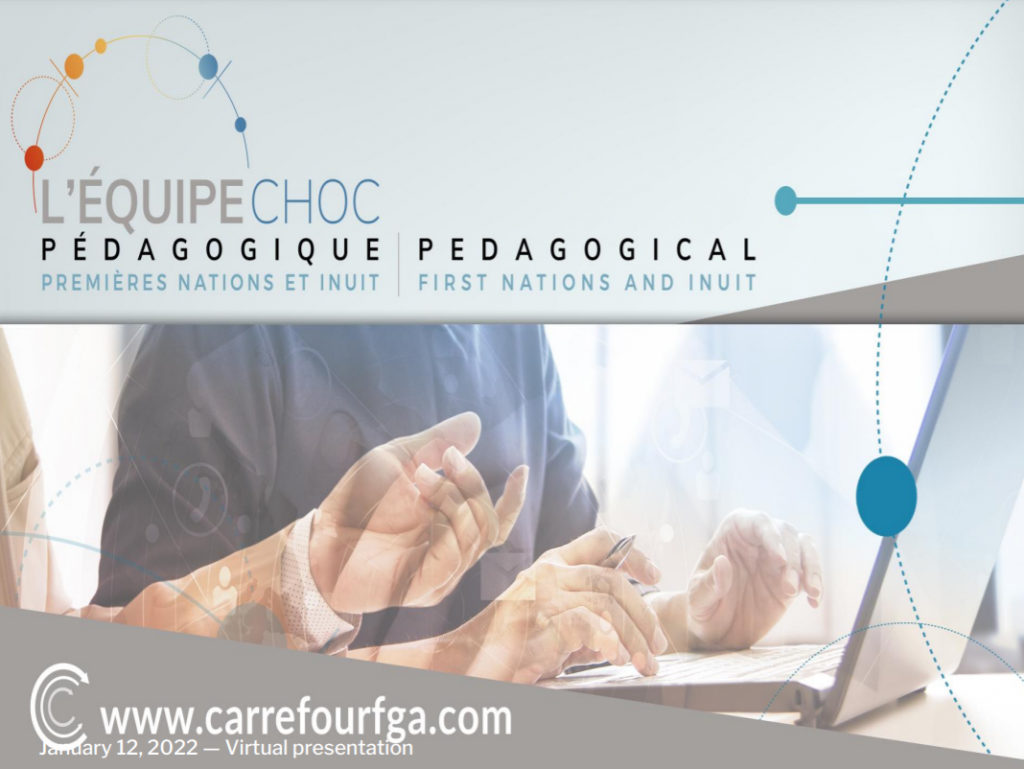 Have questions about these or other resources?
Pedagogical Équipe Choc contact info is in the document!
News from the TRÉAQ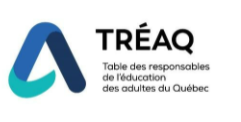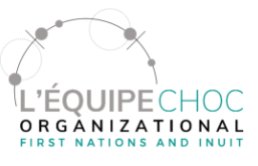 New SVI tools designed by the TRÉA
In order to continue our support for the implementation of the Socio-vocational integration (SVI) program with Indigenous organizations, the TRÉAQ is proud to present two new vignettes. In October, we published a vignette informing you about the program and in November, we presented two learning situations related to the course SVI-3017 Reconciling Work and Personal Life.
Today, we are sharing with you a video on SVI evaluation and another which addresses various questions about the program. These videos were developed in collaboration with Ms. Diane Labelle of the First Nations Adult Education School Council.
Currently, the Organizational team of the TRÉAQ is working in collaboration with the Cree School Board, the Centre de développement de la formation et de la main-d'œuvre Huron-Wendat and the Kativik School Service Centre to adapt learning situations related to the SVI program for the course SVI-3016 Choosing an Occupation. In addition, we are developing a toolkit to support new AGE managers which will address several needs.
We hope that these tools will be of use to you. We remain available to assist you if needed. Do not hesitate to contact us at : infofga@treaq.ca.
Upcoming Events
ACE Online 2022
Wednesday, March 16th, 2022

The RÉCIT Adult General Education and Vocational Training teams will be co-hosting this professional development event.
The call for presenters is still open if you want to present something or host a conversation on your own or with colleagues!
Indigenous Matters in Canada
Wednesday, March 23, 2022 – 4:15 – 5:15
The next Anglophone Community Après-cours will be on the topic of Indigenous Matters in Canada.
Consult the calendar on the Après-Cours website for more information as well as to see the other communities that are meeting in the near future, in both English and French.
AQIFGA conference 2022
April 27-29, 2022 – Sheraton Convention Centre, Laval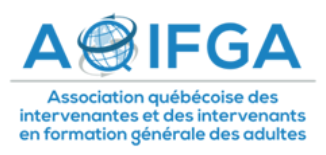 The theme for this year's AQIFGA conference is « Tous pour la réussite de chacun », loosely translated to Everyone for the success of each one.
SVI & SI Student Resource Kit Development
May 18, 2022 – 9:00 -12:00, online
Members of the Quebec Social Integration Network are developing a student resource kit to support Social Integration (SI) and Sociovocational Integration (SVI) students in employment and volunteer settings.
They are looking for SI and SVI teachers who may want to work on this project. They also think that consultants who have Vocational Training (VT) as part of their dossier might be interested in this project.
Entering the world of work can be intimidating for SI and SV students, particularly those who have required a great deal of support in a school setting. The goal of our project is to address the challenges our students may encounter in employment and volunteer settings.
The kit would aim to effectively scaffold the intersecting social, emotional, and organizational skills required to navigate the world of work. The kit will also be designed with accessibility in mind and be modular enough so that it can be used in a variety of work-related settings.
We are launching the project with a half-day of online networking and sharing on May 18 from 9 AM – 12 PM. We will use breakout rooms to work on different aspects of the resource kit such as time management, work-related communication skills, managing emotions, managing conflicts, etc.
This is open to teachers and consultants working in French or English settings.
If you know any SI/SVI teachers who you think would be interested in attending this event, please have them email Avi Spector (aspector@rsb.qc.ca) and CC: Matthew Kennedy (mkennedy08@lbpearson.ca).
Thank you in advance from the planning team:
Stay Connected
No matter where you choose to connect, you will still stay in the loop!
Join the Indigenous Adult Education Network Facebook Group here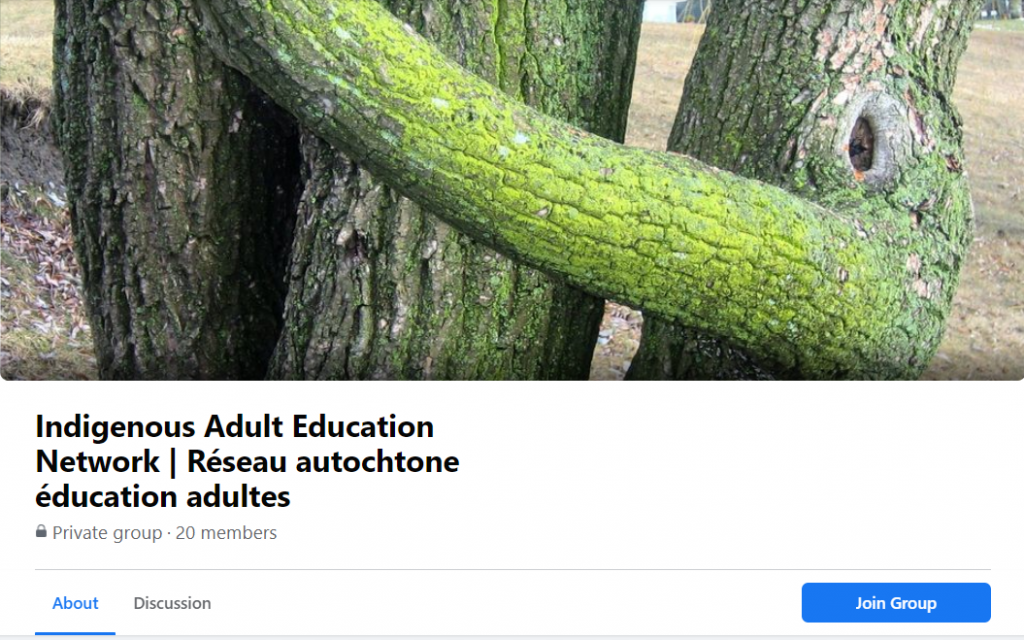 Subscribe to receive Newsletters and other news from this website by email in the box below.
[jetpack_subscription_form show_subscribers_total="false" button_on_newline="false" custom_font_size="16px" custom_border_radius="0″ custom_border_weight="1″ custom_padding="15″ custom_spacing="10″ submit_button_classes="" email_field_classes="" show_only_email_and_button="true"]
Nia:wen, Welàlin, Tshinaskumitin, Migwetc, Merci, Thank you
For questions, comments, or ideas for future newsletters, please contact us here!