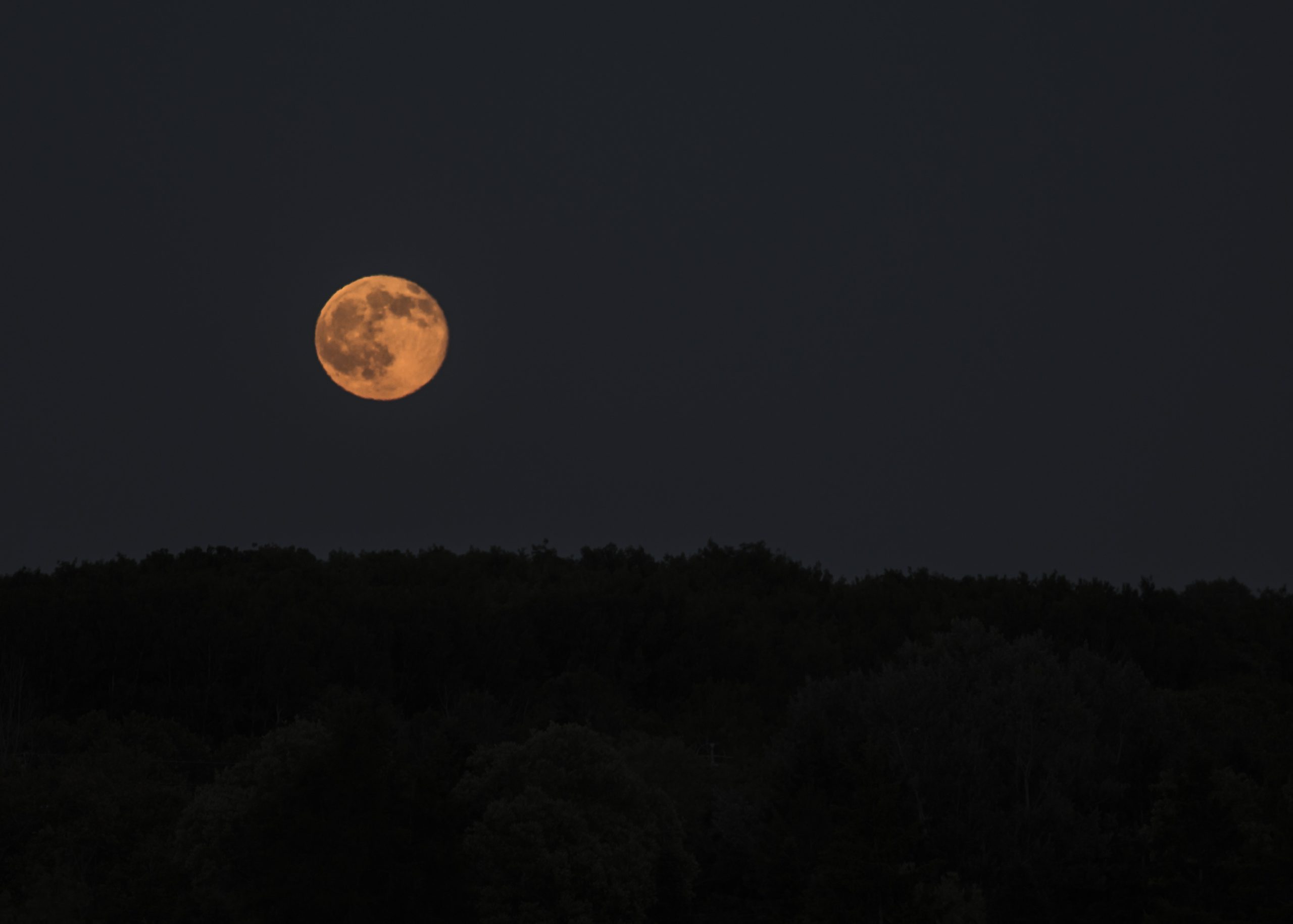 Indigenous Adult Education Network News
Welcome Message
Here we are, the Strawberry Moon just passed and that tells us that we are so very close to the end of another school year!
This third (!) school year touched by the pandemic has been difficult at times, it has also been a great year of connection as we supported each other throughout the different kinds of challenges we each may have faced due to the pandemic.
At our last meeting we began a reflection process on our network's governance by looking at these points:
Role and responsibilities to requests for external consultation
Internal support needs / wishes
Meetings:

Elder / knowledge keeper to open each meeting?
Meeting in person, at least once?
We are very much at the beginning of this process but there seemed to be consensus along at least two points:
Yes, let's invite an elder to open our meetings – perhaps someone from a different community each meeting so we can continue our tradition of learning from each other.
And yes, let us meet in person. Some ideas that came out of this point was to possibly have a full day towards the start of the school year where we could connect and also work together in small groups on different projects.
We will keep you posted about where and when that may happen. In the meantime, have a wonderful summer – enjoy the strawberries as they are just now starting to ripen 🍓🍓
Nia:wen, Welàlin, Tshinaskumitin, Migwetc, Merci, Thank you
Resources for centres
Poster Series
This is part of a growing series of small posters to honour teachers & learning. Here is a folder of the images with and without the FNAESC logo. Feel free to use them and add your own logo if you like. The images used are all from pixabay.com, unless otherwise noted, and are in the public domain.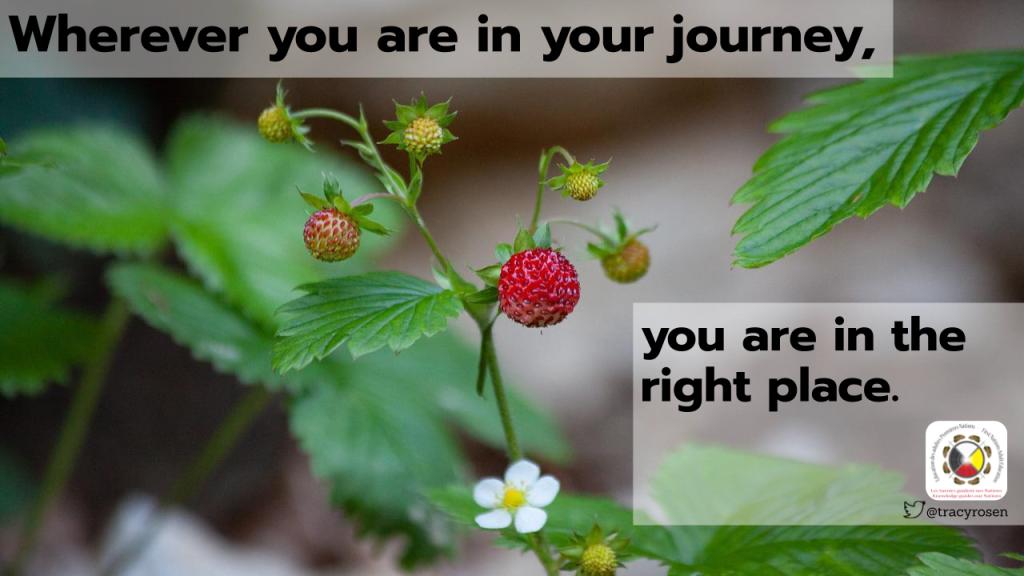 Highlights from the past two years
From new resources to new policy – our network supports each other in many ways.
Did you know that we have been publishing a newsletter for the Indigenous Adult Education Network since September 2020?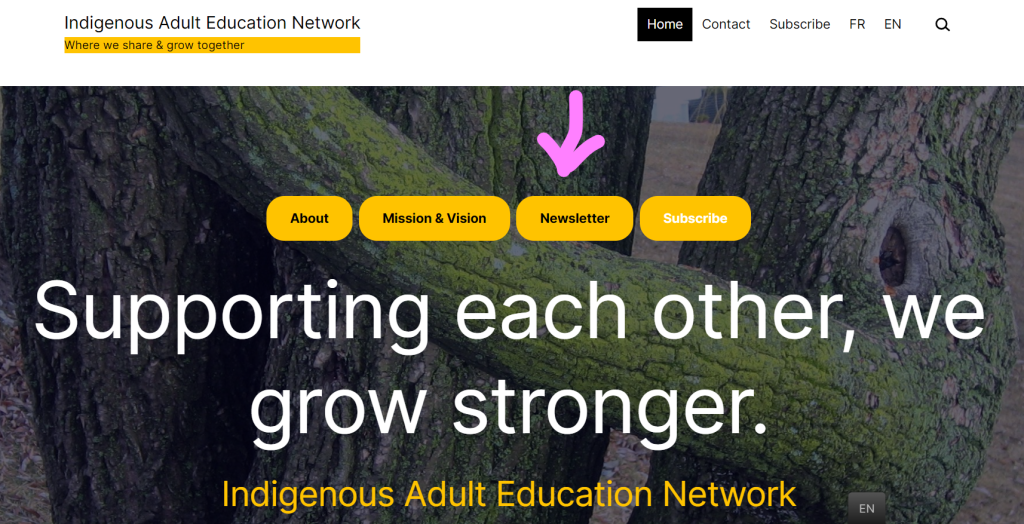 Maybe you are just starting to receive these newsletters, maybe you missed on or two over the years, or maybe you just feel like reviewing some of what we have been up – whatever the reason, you can read through all of the newsletters here. They include resources and stories created by and for our teachers and learners.
If you have something to share in the newsletter – please reach out to Tracy or share it at a monthly network meeting so we can make sure to include it in an upcoming issue. Our next issue will be in September 2022.
Keeping it Real – AQIFGA 2022 workshop
Keeping it REAL / Soyons VRAI – a bilingual workshop presented by Caroline Mueller & Rachel Thorne (Kativik Ilisarniliriniq)
Caroline and Rachel guided the participants through a conversation about situating personal development courses to the realities of the learners we have in our classrooms.
Their guiding questions:
How do we connect current theories with the realities of our students' lives?
How do we reconcile mandated course content and learning outcomes with the needs of our learners?
How do we share diversity when thinking about the PRS Programs?
News from our Partners
Récit + Équipe-Choc
2022 – 2023 Service offer
Read the flyer below (you can click on the image to see it larger) to find out more about what the Pedagogical Équipe Choc and the RÉCIT can offer your centres.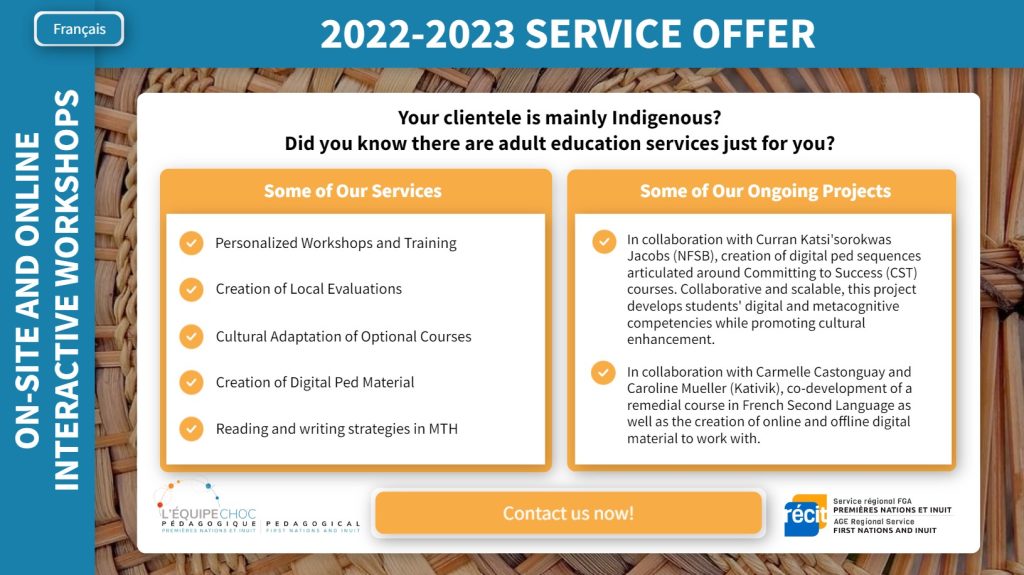 Do you know about these newsletters?
Pedagogical Équipe-Choc
Carrefour FGA
University of Sherbrooke
Favouring vocational training in an Indigenous context
The team at University of Sherbrooke created an infographic for the project Favouring vocational training in an Indigenous context. Click on the image to see it larger.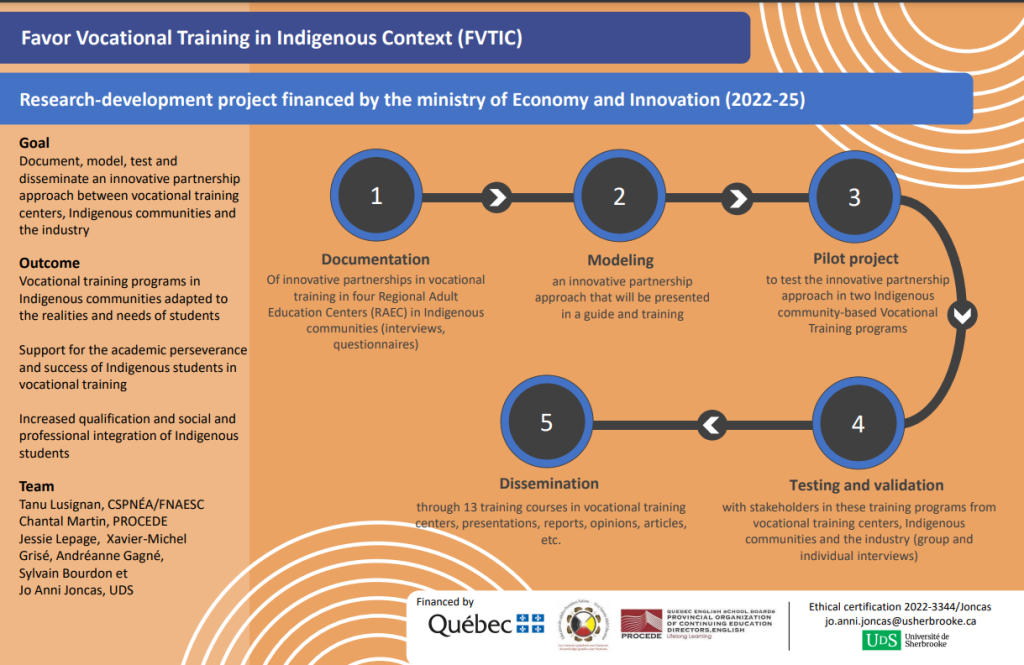 Here is the original project presentation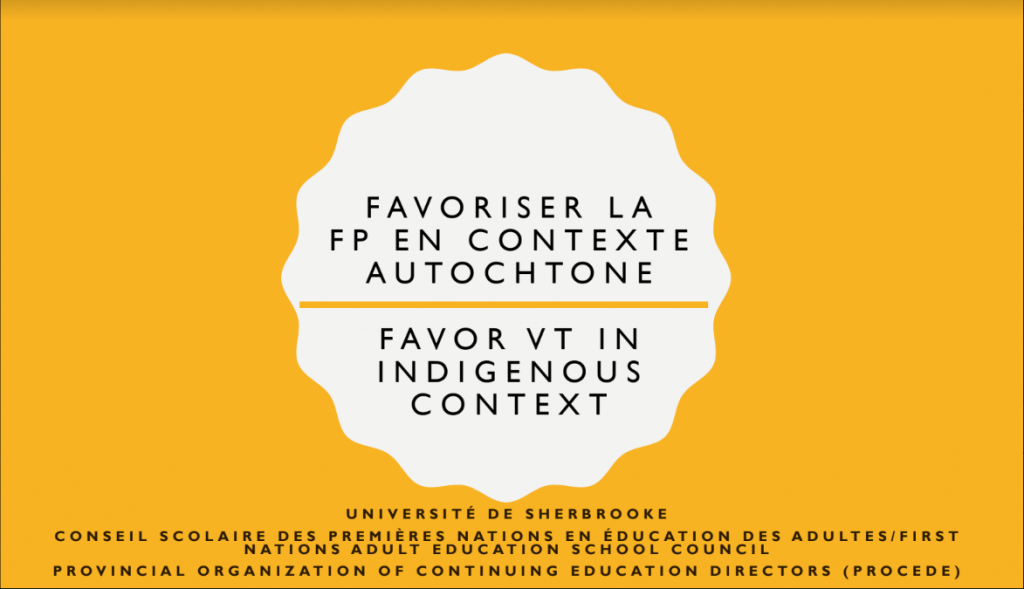 News from the TRÉAQ
Throughout the year, the Organizational Team of the TRÉAQ worked in collaboration with the Cree School Board, the Huron-Wendat Training and Labour Force Development Centre and the Kativik School Service Centre on the development of various tools. We are proud to announce that we have created two sections specifically dedicated to the dissemination of this material in our new TRÉAQ Members' Area. Users will have easier access to the online resource library.
Link to the English Members' Area
In addition, we are pleased to present a new video. Welcoming Indigenous Learners illustrated the importance of the first contact with these students. In this video, Ms. Diane Labelle, Regional Pedagogical Advisor for the First Nations Adult Education School Council (FNAESC), identifies different strategies that can be used to create a sense of belonging, such as taking an interest in the culture of each individual. In addition, she explains the perception of Indigenous communities whereby each learner is a privilege for the teacher and, ultimately, for all the staff with whom he or she will be associated in the Centre.
The Organizational Team of the TRÉAQ is here to meet your needs. We offer personalized coaching and training for managers and their teams. Apply for support now.
Stay Connected
No matter where you choose to connect, you will still stay in the loop!
Join the Indigenous Adult Education Network Facebook Group here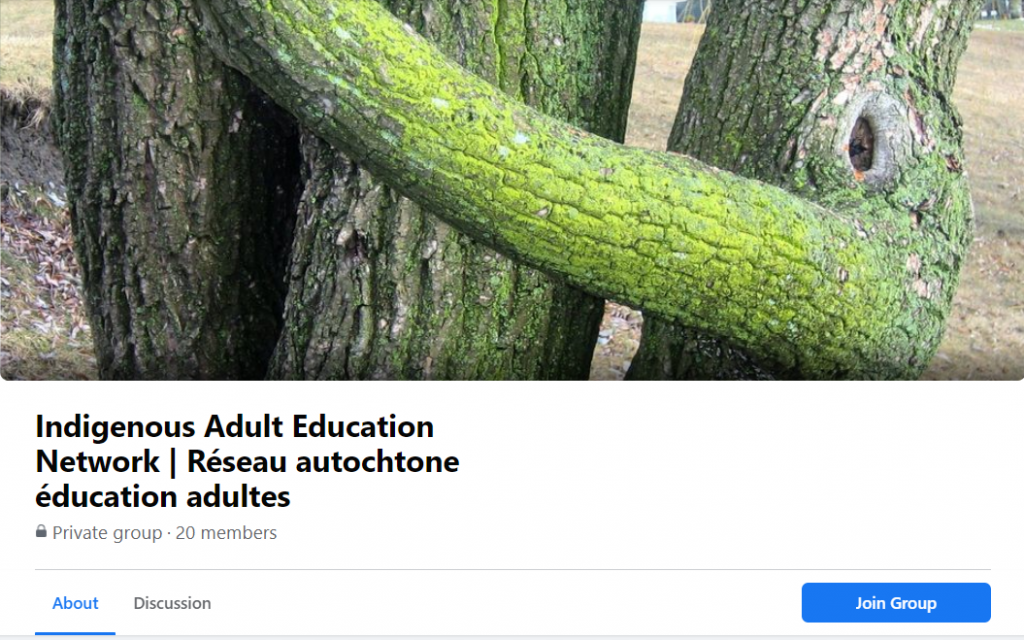 Subscribe to receive Newsletters and other news from this website by email in the box below.
[jetpack_subscription_form show_subscribers_total="false" button_on_newline="false" custom_font_size="16px" custom_border_radius="0″ custom_border_weight="1″ custom_padding="15″ custom_spacing="10″ submit_button_classes="has-black-border-color has-text-color has-white-color has-background has-black-background-color" email_field_classes="has-black-border-color" show_only_email_and_button="true" success_message="Success! An email was just sent to confirm your subscription. Please find the email now and click 'Confirm Follow' to start subscribing."]
Nia:wen, Welàlin, Tshinaskumitin, Migwetc, Merci, Thank you
For questions, comments, or ideas for future newsletters, please contact us here!