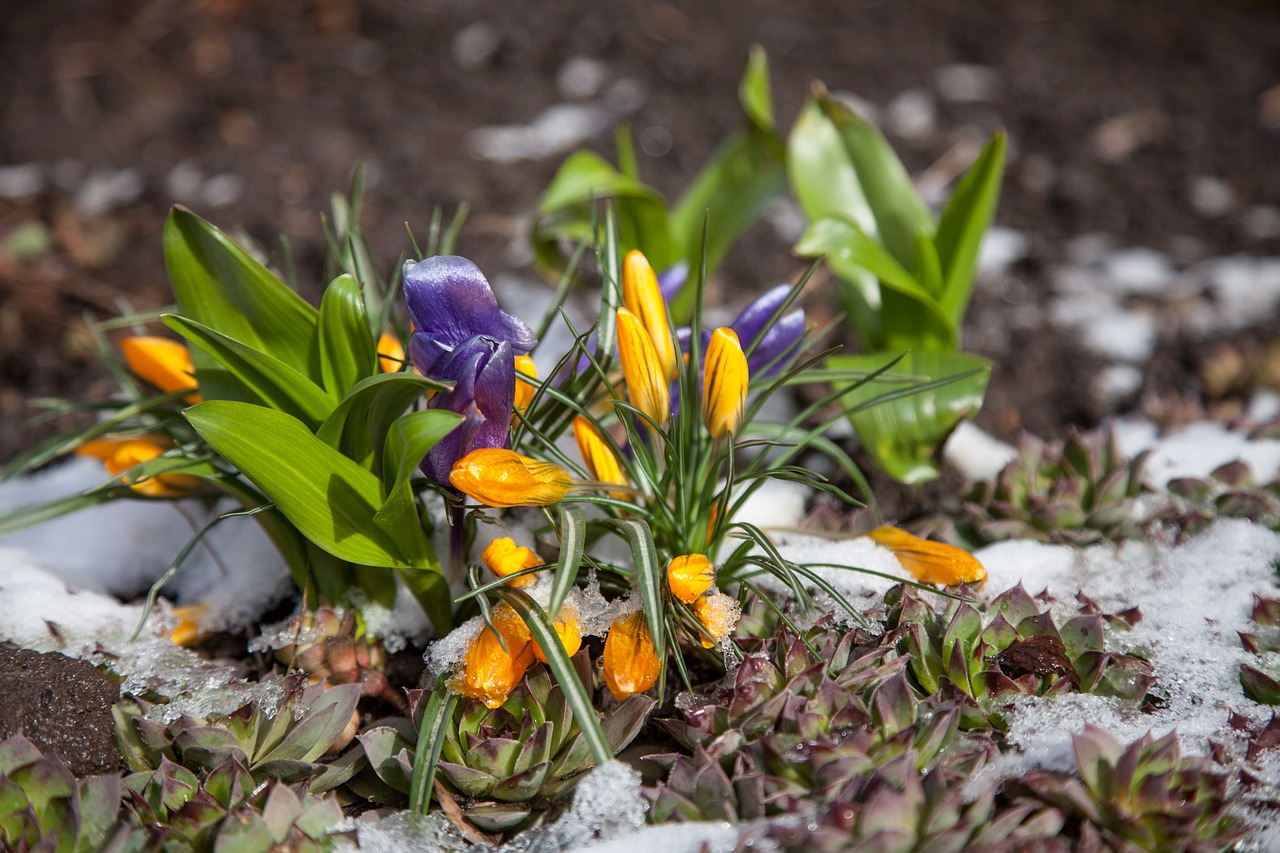 Indigenous Adult Education Network News
Welcome Message
Even though there is still snow on the ground in some of our regions and territories, the end of the school year seems to be coming up quickly! We have only two more network meetings before the year ends and at our last meeting, we asked the question – What are your preoccupations between now and the end of June?
The concerns centred on, as always, our learners. Whether it be due to rising Covid cases in some communities, temporary building closures, upcoming Goose Break, or just due to a general concern we are all preoccupied with maintaining student engagement and motivation during this last stretch of the school year.
Are you doing anything different this year to help students and teachers through this last stretch?
Nia:wen, Welàlin, Tshinaskumitin, Migwetc, Merci, Thank you
Resources for centres
Poster Series
This is part of a growing series of small posters to honour teachers. Here is a folder of the images with and without the FNAESC logo. Feel free to use them and add your own logo if you like. The images used are all from pixabay.com, unless otherwise noted, and are in the public domain.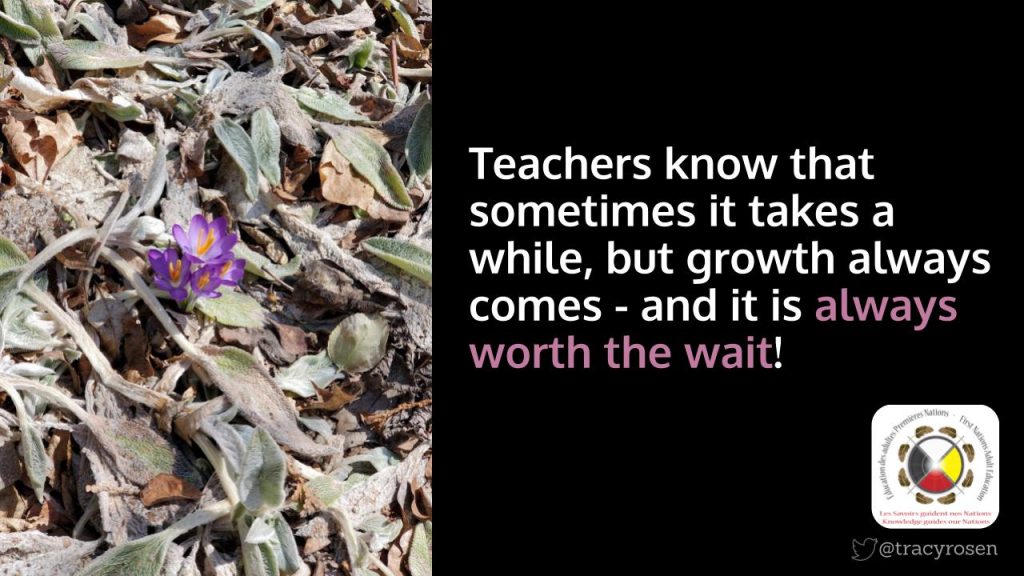 Addressing Engagement & Motivation through Wellness
At our last network meeting, many people expressed their concerns about helping their students stay motivated to complete the year. Engagement and motivation are intrinsically tied to wellness. It makes sense – it is harder to stay motivated to do something if we don't feel good about ourselves.
Wellness for Everyday
Last year, Student Support Worker, Cheryl Gabriel developed this resource to share with the learners she supports. I think it is timely to share it again.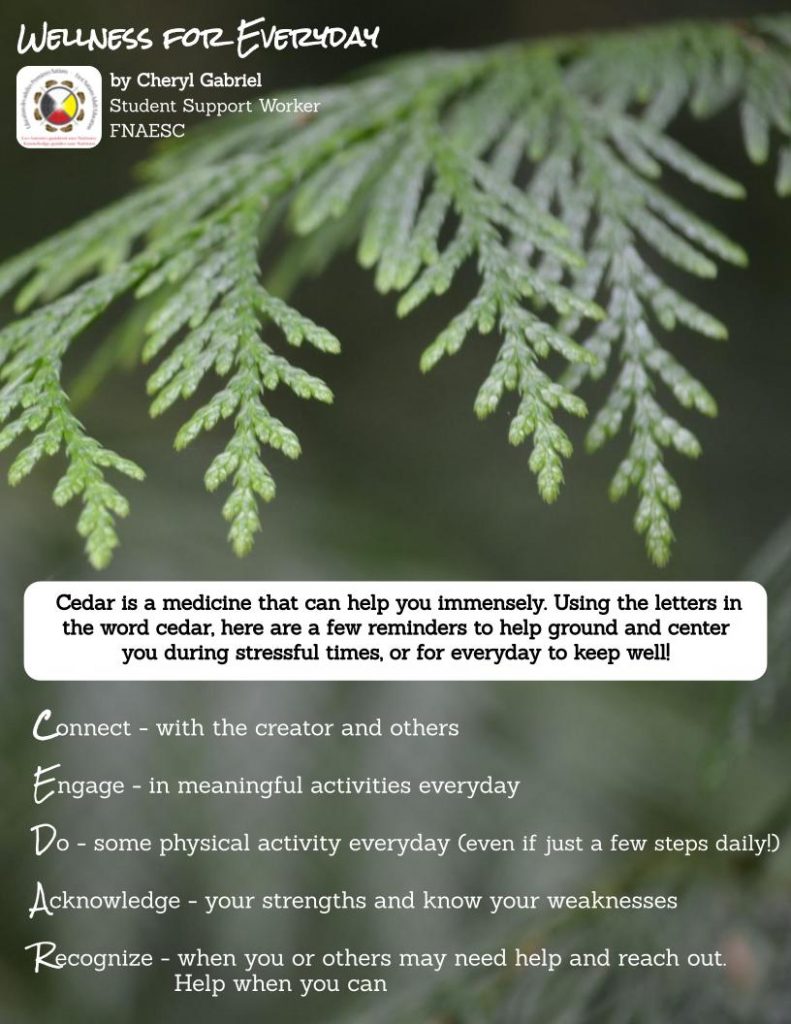 Download this poster.
Read or download the Student Guide to Building Resilience & Managing Stress.
Enhancing Student Wellness – Simple Tips for Instructors
Also last year, the FNAESC developed this resource for instructors and school staff. Once again, it seems timely to share it now.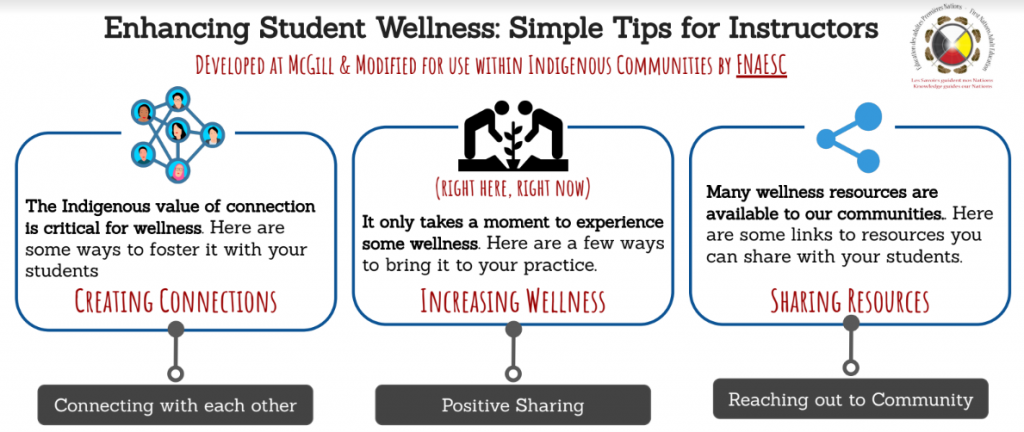 Read or download Enhancing Student Wellness: Simple Tips for Instructors.
Learning with Video – now in French, too.
Last month we shared these resources about learning with video. We are including them again this month because they are now updated and available in both French and English.
As we are settling in to permanent online and hybrid learning environments, there is a growing need to help learners feel confident and successful in their new learning environments. This website includes resources related to taking notes and creating an environment conducive to learning with video. Please share with your teachers and students if you find it helpful!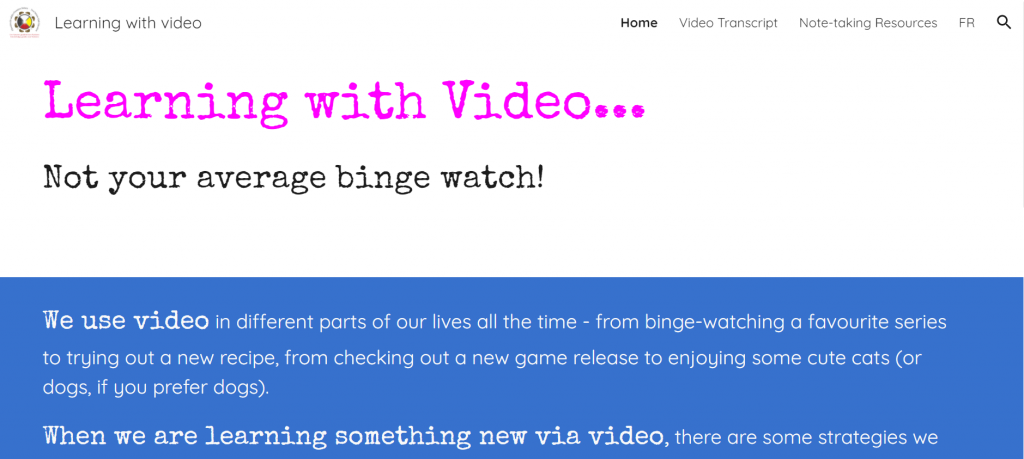 Meeting news
Indigenous Adult Education Advisory updates
March 30 A small group of network members met to talk about these two points, as described in our last newsletter:
Point 1: Different advisory boards tend to focus on the youth sector and when there is talk of adult education we rarely, if ever, hear of the wonderful things that are happening in our community adult education centres. Too often, when Indigenous learners are mentioned, it is from a place of deficit with a focus on needs rather than a focus on contribution.
Point 2: In the recent past, a document was published about the state of Indigenous education by a non-Indigenous group. In last meeting's discussions, we thought it was time to talk about the role of Indigenous communities in Adult Education, possibly starting with outlining appropriate ways to consult with communities.
The conversation revolved around the central issue of consultation, as mentioned in point 2. What does it mean? Do we all share the same understandings of consultation and collaboration? When a group comes to consult with an Indigenous community or organization – what are the expectations?
Next steps will be to begin outlining our own expectations for respectful consultation and collaboration.
You can read the notes from the first meeting here.
Are you interested in joining in this process? Please contact Tracy to be added to the mailing list to keep up to date.
News from our Partners
Récit + Équipe-Choc
Updated website!
The Équipe-Choc for First Nations and Inuit's website continues to be updated. Take a look here.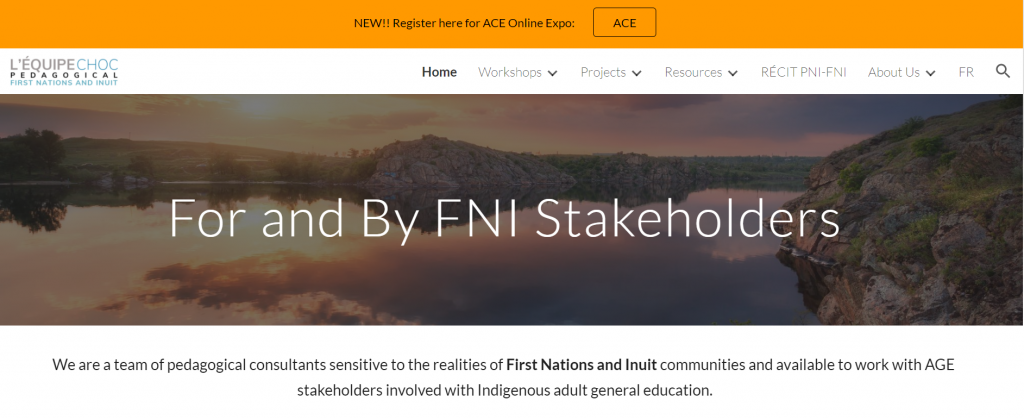 Do you know about these newsletters?
Pedagogical Équipe-Choc
Carrefour FGA
News from the TRÉAQ
The TRÉAQ is planning an in-person conference for the month of June. Participants can choose from either June 1st or June 2nd as attendance will be limited to 250 people each day. Find out more here (information available only in French)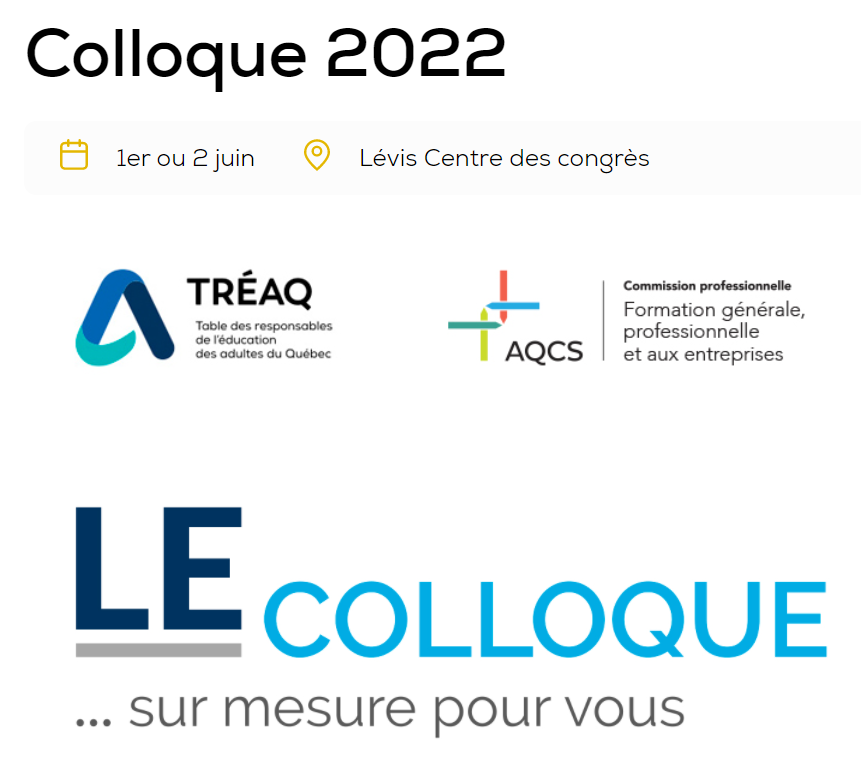 Upcoming Events
Après-cours
Tuesday, April 12 from 1:00- 3:30 – History of Quebec & Canada – Planning Toolkit. Registration form here.
Wednesday, April 13 from 4:15-5:15 – Trauma Informed Pedagogy. Registration form found here.
Consult the calendar on the Après-Cours website for more information as well as to see the other communities that are meeting in the near future, in both English and French. You can join any of the meetings by clicking the big red button on the Après-Cours website.
AQIFGA conference 2022
April 27-29, 2022 – Online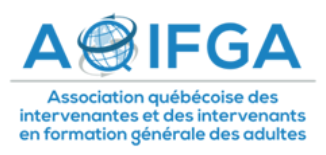 The theme for this year's AQIFGA conference is « Tous pour la réussite de chacun », loosely translated to Everyone for the success of each one.
Registration is now open.
Student Resource Kit Development – Social/Vocational Integration
May 18 from 9:00 -12:00- Online workshop for SVI, SI, & VT teachers
If you know any SI/SVI teachers who you think would be interested in attending this event, please have them email Avi Spector (aspector@rsb.qc.ca) and CC: Matthew Kennedy (mkennedy08@lbpearson.ca).
Stay Connected
No matter where you choose to connect, you will still stay in the loop!
Join the Indigenous Adult Education Network Facebook Group here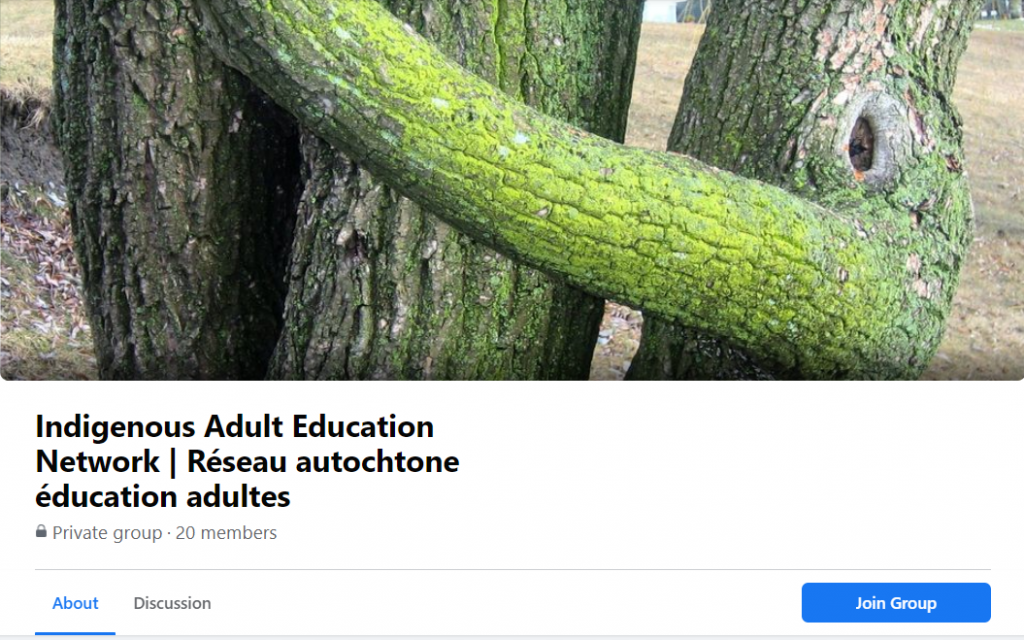 Subscribe to receive Newsletters and other news from this website by email in the box below.
[jetpack_subscription_form subscribe_placeholder="Email Address" show_subscribers_total="false" button_on_newline="false" custom_font_size="16px" custom_border_radius="0″ custom_border_weight="1″ custom_padding="15″ custom_spacing="10″ submit_button_classes="" email_field_classes="" show_only_email_and_button="true" success_message="Success! An email was just sent to confirm your subscription. Please find the email now and click 'Confirm Follow' to start subscribing."]
Nia:wen, Welàlin, Tshinaskumitin, Migwetc, Merci, Thank you
For questions, comments, or ideas for future newsletters, please contact us here!